Here at Y2 Learn Driver Training are set to committing to help you to achieve your goal of learning to drive. And assist with getting your driving licence.
Think of the benefits of the freedom you'll gain from your licence , not having to catch the bus and being governed by the timetable.
You can apply for your provisional driving licence up to 3 months before your seventeenth birthday (however, it would not become valid until you were seventeen) your instructor will need to see your driving licence before starting your lessons and do a licence check.
There are two tests that you will have to take before coming a full licence holder. We are here to give you the best possible chance of achieving this.
---
Theory Driving Tests with Y2 Learn Driver Training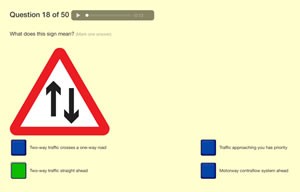 Firstly, let's look at the theory test and hazard perception test. These tests are split into parts; the multi choice questions where you need to achieve pass mark of 43 out of 50.
The hazard perception; a series of 15 videos and a pass mark of 44 out of 75.
All of are instructors use theory test pro, which is a website designed to help you study for these tests. We include this in the cost of the driving lessons, and it gives you unlimited access to study.The way its designed allows your instructor to view your page and help or advise you.
We've included a sample question to show how it will be on the test, and from the theory test pro.
---
This video shows you about the theory test – Learning to Drive
---
Practical Driving Tests with Y2 Learn Driver Training
Let's now look at what will be expected within the driving test. The driving test changed on the 4th December 2017.
It now covers rural roads -20 mins independent driving or following a Sat-Nav, manoeuvres have even changed. We also get tested on parallel parking- bay parking -and pulling up on the right reversing back 2 car lengths then moving back to the left.
On your driving test, your licence will be checked, and you will be required to read a number plate at a distance of 20.5 metres. Your examiner will explain all about the test in the car just before.
You will be expected to answer two show me tell me questions as well.
---
This video shows how the test is conducted – Learning to Drive
---
Virtual Driving Lesson