Grand Finalists at 2022 SME National Awards

We are very proud to announce that we were Grand Finalists at 2022 SME National Awards.

Held at Wembley stadium 2nd December 2022.
What are SME Awards I hear you say?
They are the small and medium sized business enterprise awards. Which encompasses a multitude of exciting and vibrant businesses in a variety of industries from all over the nation.
Small and medium sized business make up about 99% of all private sector businesses, and serve as the back bone to our society. Y2 Learn qualifies as a small business
enterprise.
Awards for what?
SME awards are aimed at specific regions or industries looking to showcase some of the key players for doing great things. Whether it be using technology and data in new ways, offering something radically new by way of a product or service or for great services provided to SMEs.
Who judges the entrants?
'The research team' casts their final judgment, based on various criteria including: client dedication, innovation, business growth, longevity, online reputation, customer feedback and business performance. All entries are judged by up to 4 of our national panel of judges
So how did we get there?
Y2 Learn won a regional award for SME Business Hero for Leicestershire 2022 earlier this year. As a result of that we were entered into the National Business Awards Grand Final in the 'Positive Impact Award' category.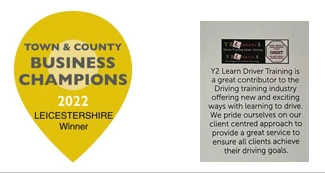 What does it mean to be an SME Grand Finalist?
It is a huge honour for us to be considered a Grand Finalist alongside some very prestigious, high flying business, it means that we have been recognised and verified as a stand out business Nationally. For making a great contribution to the driver training industry and delivering new and exciting ways of learning. For priding ourselves on our client centred approach and ensuring that our clients achieve. Our success is the result of Neil's Wightman's preparation, hard work, forward thinking and motivation.Y2 Learn Driver Training have demonstrated dedication and innovation in the ways that we have not only adapted, but weathered the COVID-19 storm to ensure the survival of the businesses and the continued development of our clients.
A huge thank you to all of our clients past and present. Who's custom, support, and testimonials have made all of this possible.
From all the Team at Y2 Learn Driver Training
But especially Neil.
Thank you for reading our blog – Grand Finalists at 2022 SME National Awards.